Please join us at Gary J Arthur Community Center, located at 2400 MD-97. The game begins at 06:00 PM and the doors will open at 05:00 PM. Be sure to purchase your tickets in advance.
An online processing fee of $1.50 per ticket will be added to your final total.
THE ONLINE BOX OFFICE FOR THIS EVENT CLOSES 3 HOURS PRIOR TO THE GAME.
Tickets purchased online will be sent via email. PLEASE TYPE YOUR EMAIL ADDRESS CAREFULLY! You MUST have your ticket accessible at the event. Your ticket will be scanned for entry.
May 12, 2023 from 6-8pm, the Harlem Wizard's will battle the Lisbon Elementary Staff in Basketball at the Glenwood Community Center. You can Buy Tickets Here.
---
Thank you to our business sponsors!

Magone Family Dental
(410) 907-7891

BCC Automotive, Inc.
(410) 489-9177
Lisbon Auto Care/Carroll Fuels
---
Team Lisbon
Meet our team! These are the Lisbon staff who will be on our team this year.
TEAM LISBON
00 – Anoff
1 – Scobie
3 – Trueblood
07 – Patrick
8 – Hook
11 – Hastings
12 – Martin
13 – Petrella
15 – Carter
18 – Lindauere
19 – Rathmann
20 – Johnson
28 – Wasson
33 – Corn
77 – Giro
79 – Ashmore
– Thomas
– Brown
– Jones
– Thompson
Support Staff and Cheer Squad
Taylor
Drews
Olson
Bennett
Smith
DiFranco
Reynolds
O'Connor
Basketball Game Pricing
General admission $25
Reserved $35
Receive special reserved seating close to the court, free team poster (perfect for autographs) for kids and a $5 souvenir gift certificate.
Courtside Plus $60
Receive courtside reserved seating, pregame meet & greet with players, souvenir lanyard, color team photo for kids (perfect for autographs) and a $10 souvenir gift certificate for adults and a $10 discount on Wizards replica jersey
Benchwarmer $100
All benefits of Courtside Plus, plus sit on wizards bench and kids get a jersey (Jersey size will be chosen at the game) and adults receive a $10 souvenir gift certificate.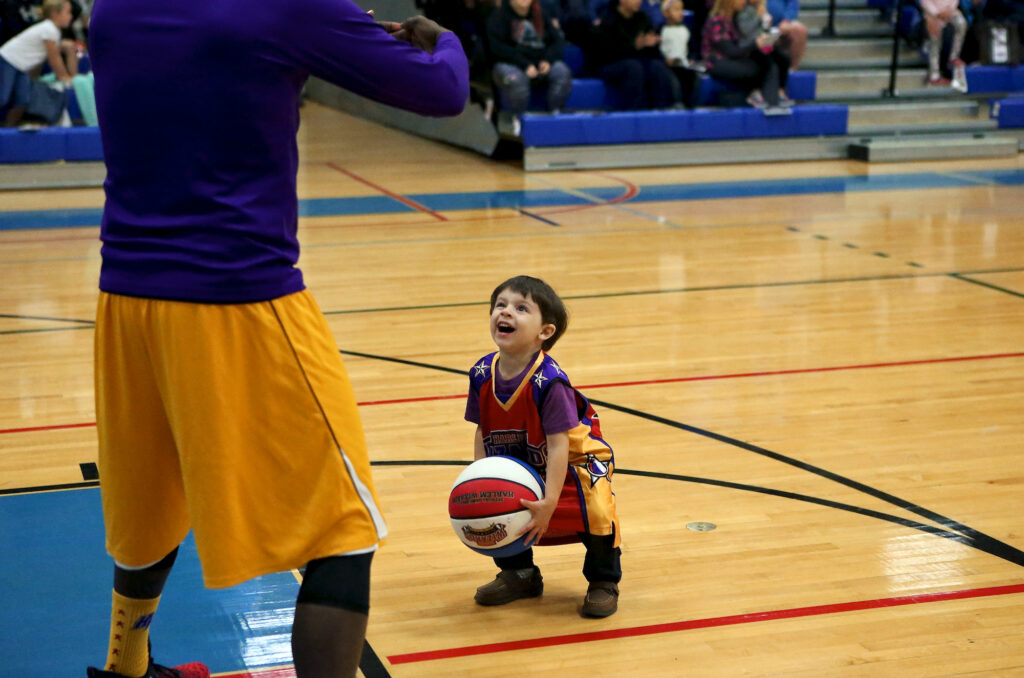 ---
Location
This event will be held at the Glenwood Community Center in Glenwood, Maryland. Please see the image below to determine which seats you'd like to purchase.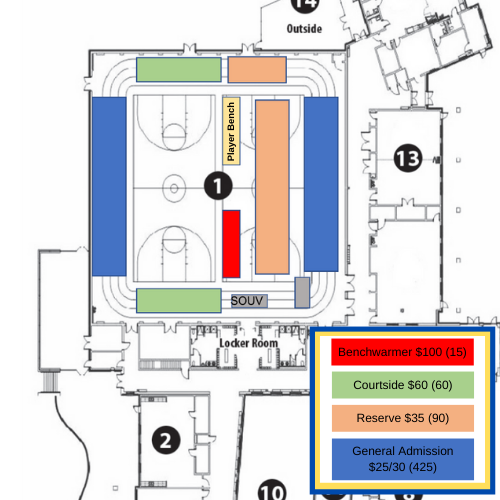 ---
Raffle!
As an additional fundraiser, we'll be having a raffles for a number of baskets that were put together by families and businesses in the Lisbon Community.
---
Support Lisbon Elementary
Purchasing tickets and souvenirs, and attending this event is a great way to support Lisbon Elementary School!
You can also:
---
Buy Tickets!
Buy your tickets for the event on the Harlem Wizards website. Find our event (May 12, Glenwood) on the calendar and click to buy tickets.