Easy Ways to Support the PTA
There are many ways to support the Lisbon PTA. We appreciate all of the help to help keep our community events running, and so we can continue to support the students, teachers, and school staff.
MemberHub Giveback App: Download the app from the Memberhub page and use the plug in when you make purchases.
BoxTops for Education App: Gone are the days of clipping Box Tops! Now you can use the BoxTops app to scan your receipts after you're finished your grocery shopping. Lisbon PTA will receive
Clothes Bin: Dropoff clothes, shoes, and textiles in the clothing bin in the Lisbon Parking lot. They accept useable and unusable items. LESPTA receives $0.10 per pound of clothing. Please do not leave bags or items outside the bin.
Buy GIFT CARDS with the Raise Right App! Sign up for the Raise Right App under the Lisbon Elementary School PTA and we'll earn a percentage for every gift card purchase.
No Hassle Donation: Donate to the General Fund which goes toward events and activities, or the Staff Appreciation Fund which goes towards yearlong staff appreciation activities.
Restaurant Nights: We schedule restaurant nights through the year and LESPTA receives a percentage of the sales on that date. Restaurant night dates will be shared in the Lines and in our Facebook group.
Fundraising Goals
| | |
| --- | --- |
| Fundraiser | Goal |
| BoxTops | $300 |
| RaiseRight | $1000 |
| Clothing to Cash® Bin | $1200 |
| Restaurant Nights | $2500 |
| Basketball Fundraiser | $14,000 |
| Memberhub Givebacks | |
| Plant Sale | |
| Yard Sale | |
How to "Clip" BoxTops with the BoxTops for Education App
Rules of the Program
Receipts need to be less than 14 days old.
Bonus offers are available and you can view which products will bring in additional earnings in the app (ie. One current bonus is "Earn 10 Bonus Box Tops when you Buy Lysol Disinfecting Wipes!")
You get a birthday bonus for scanning on your birthday month!
If your receipt has no eligible items, you can still enter your school to win money.
How to Use the BoxTops App
#1. Download the BoxTops App
#2. Open the App and click SCAN. Choose your receipt type.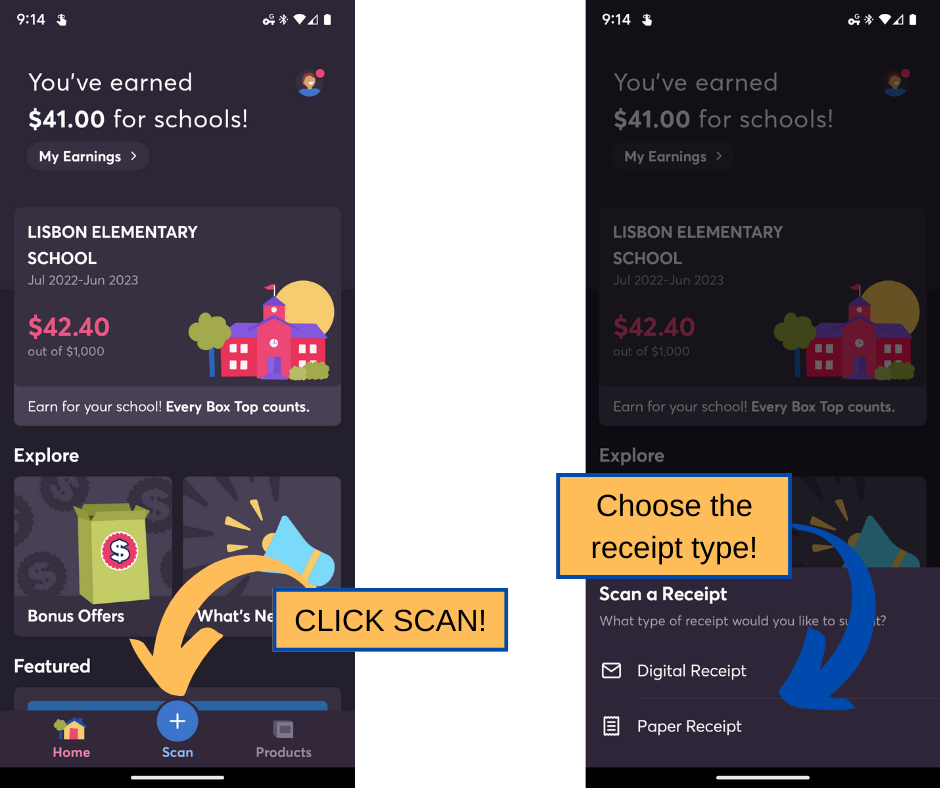 #3. Take a photo of your receipt.
#4. If your receipt is long, you may need to select ADD SECTION and take multiple photos. You need to get the entire receipt as the date needs to be scanned.
#5. Check out the bonus offers for that time period- sometimes there are HUGE bonuses when you buy a certain product or brand. This month, for example, Lysol wipes offered 10 bonus box tops when you bought them.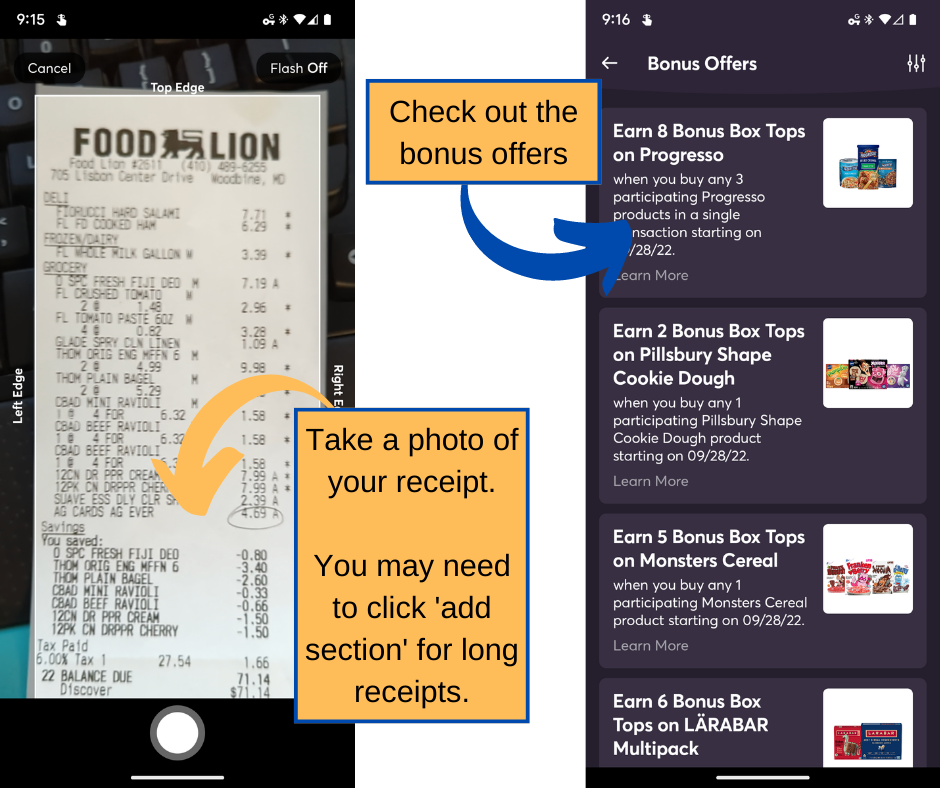 #6. Submit the receipt. You will get a notification of what you've earned for your school. There are sometimes bonus offers, such as a birthday bonus for scanning during your birthday month.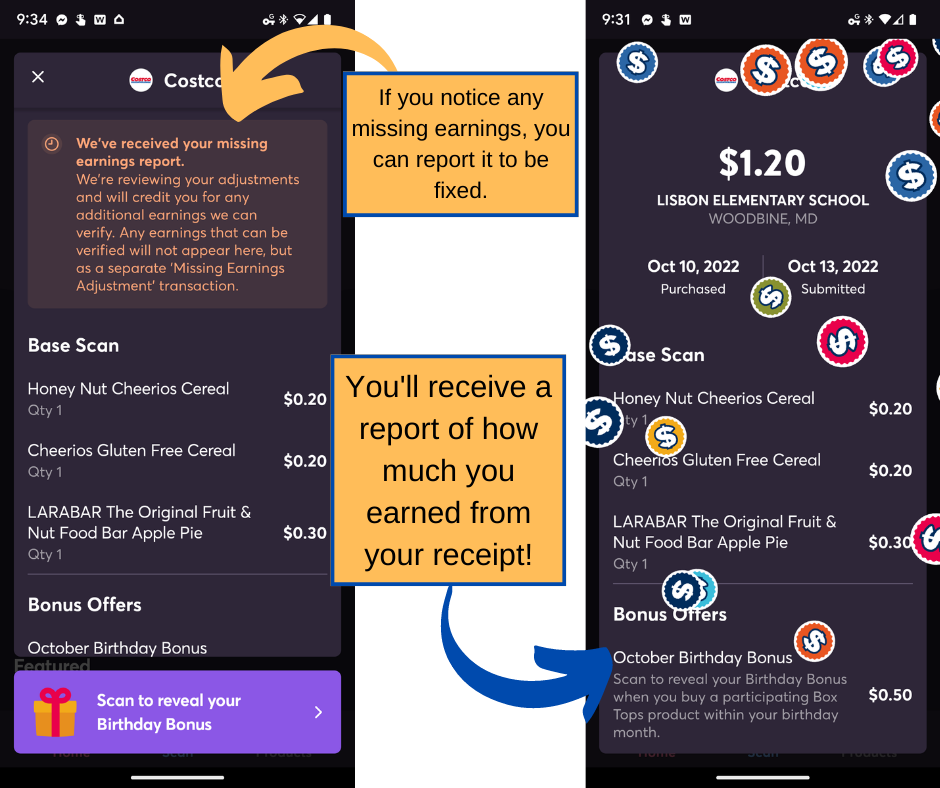 #7. You can view your school. On this page, you'll be able to see your school's lifetime earnings, as well as where your school is on earning for the school year. You can also see how many people from the school are using the app each month.
As you can see, our school's earnings and the number of users is down a LOT since BoxTops switched from cutting the Box Tops to the app. It's EASY to use the app, but more people need to know about it and use it consistently so our school can earn this easy money.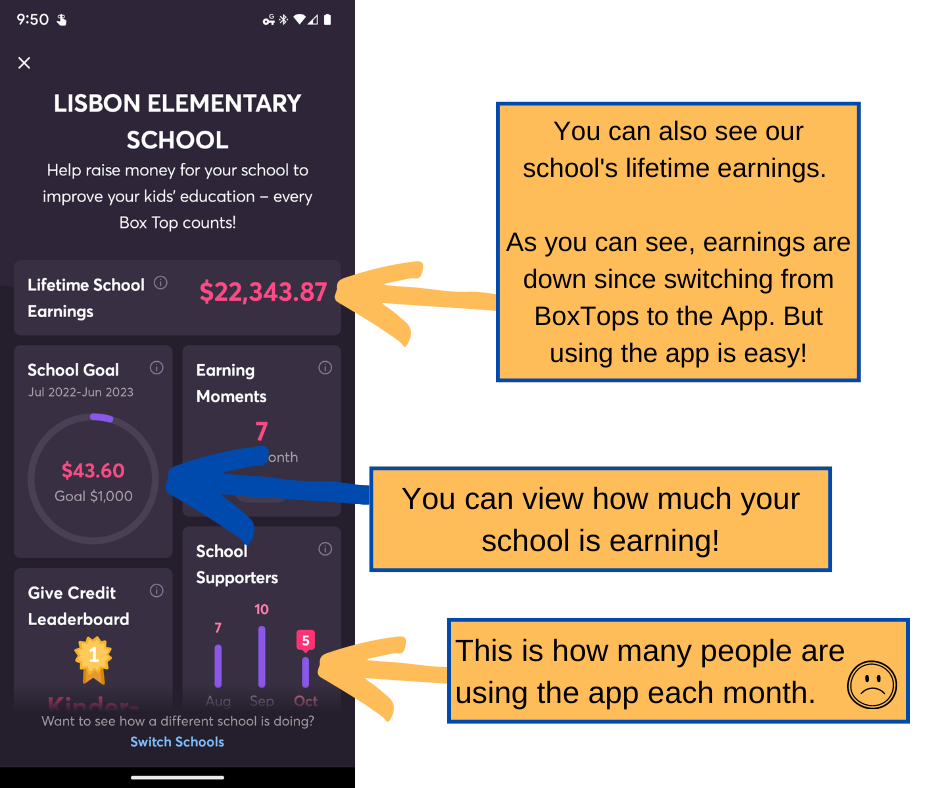 Thanks for your help! Compete with friends and family to see how much you can earn each year!
How to Use RaiseRight
Raise Right is a program where you can purchase gift cards- just like you normally would- but Lisbon PTA receives a percentage back. You can buy gift cards to Food Lion, Home Depot, Amazon, Starbucks, Gap, The Apple Store, and more.
Different stores offer different earnings for the PTA and there are often bonuses for certain stores or restaurants.
#1. Download the RaiseRight app.
#2. Setup an account with our school listed. Lisbon Elementary School's RaiseRight code is 65DCA4DB74233.
#3. Choose the store you'd like to buy a gift card to; I'm going to show how to buy a Food Lion gift card for $100. With the 3% kickback, the school gets $3 back. If you buy an eGift Card, it's easy to use the "gift card" right from the app. You simply scan the barcode at the register.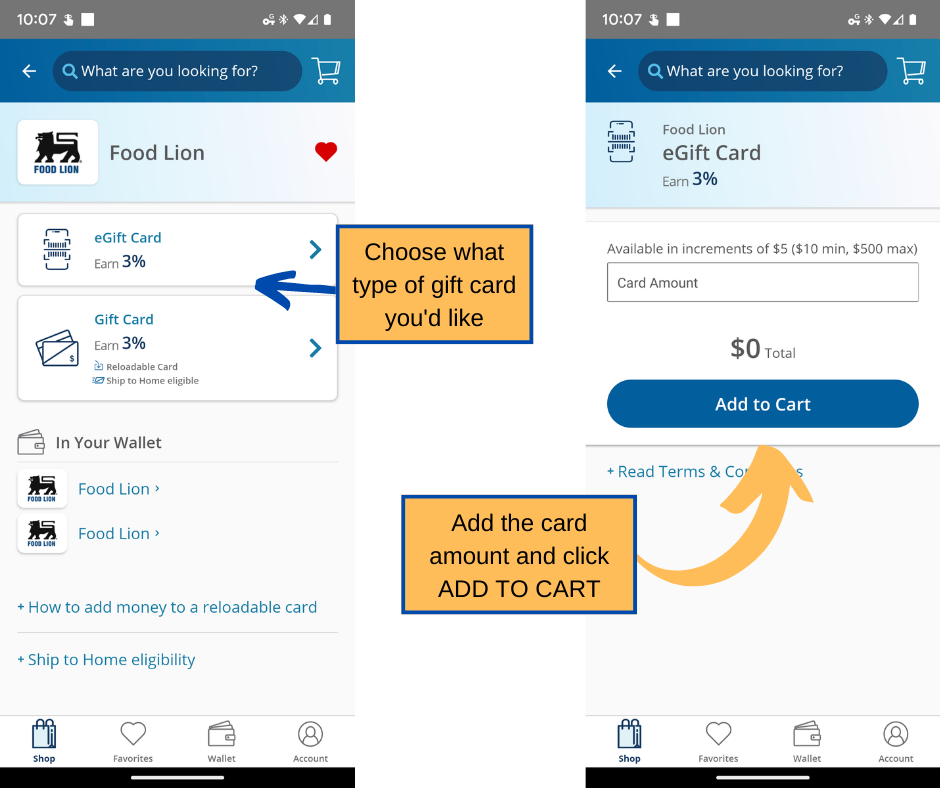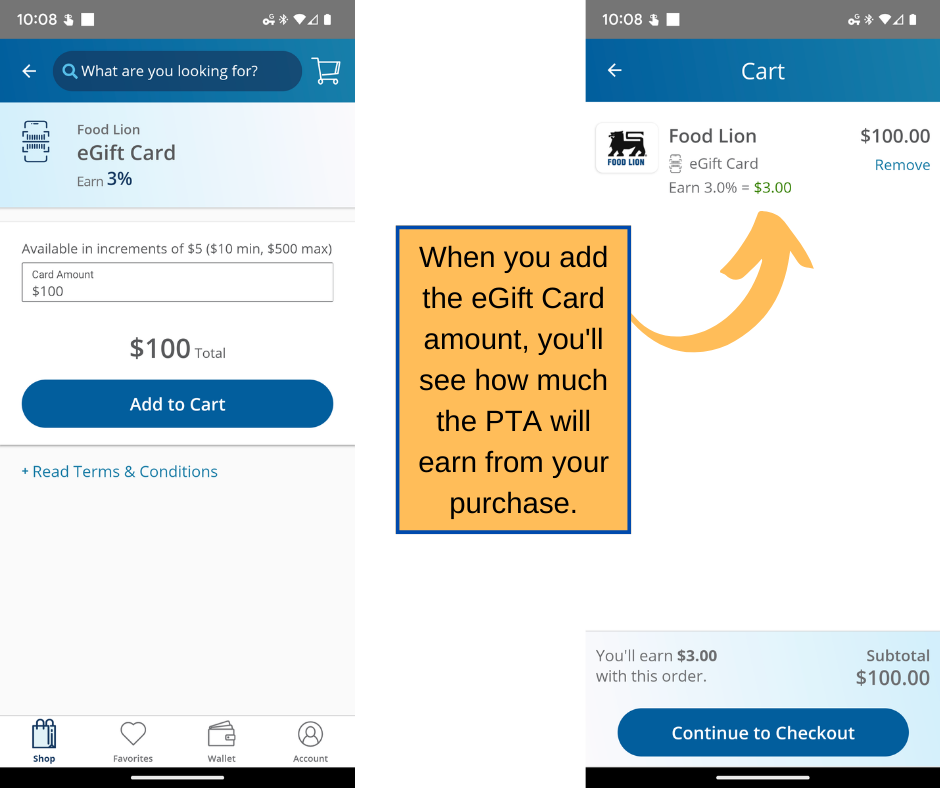 #4. Go to checkout. You can select how you'd like to pay. If you pay by connecting a bank account, you accrue a $0.15 fee. Credit card transactions have a higher fee. If you pay your coordinator directly with check or cash, there is no fee.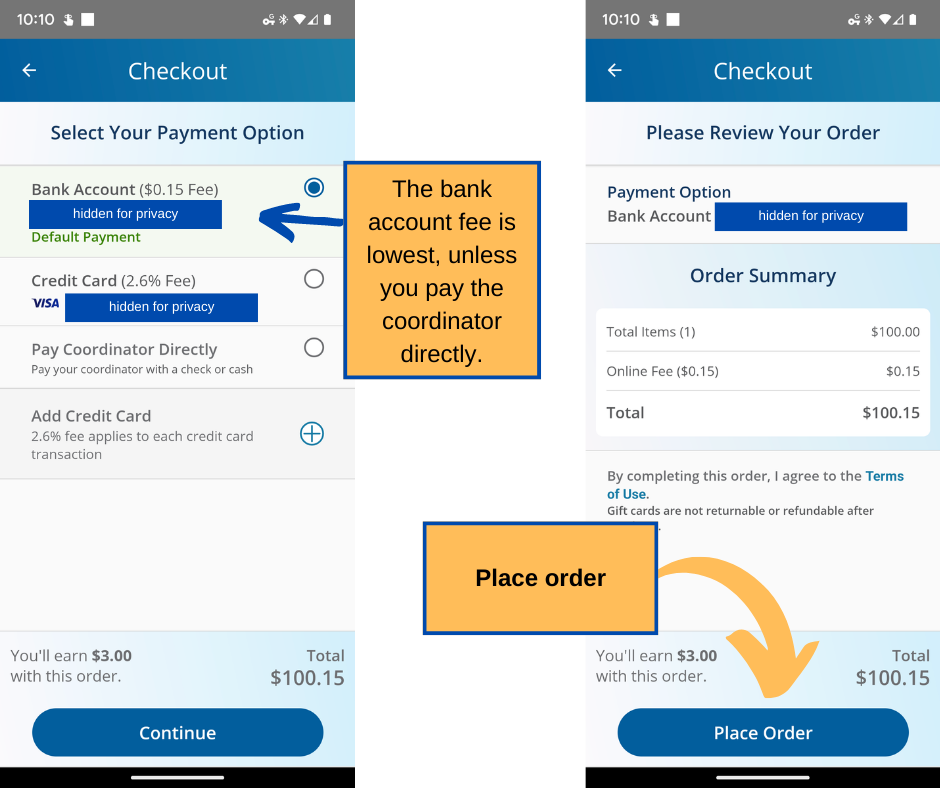 And that's it! For eGift Cards, they show up right in the app for you to use. I try to buy these if I'm buying a large item (ie. I did this when we had to buy a new refrigerator). If you buy a physical card, you need to pick them up from the school's coordinator.
TIP! One convenient way to budget is to buy a digital gift card for your grocery budget amount for the month. Then you can scan the eGift card at your grocery store (it's easy to pay via the app!) and keep track of where you are on your budget each month. If you plan to buy a lot of gift cards this holiday season, make sure to stock up via RaiseRight and fundraise for the Lisbon PTA in the process. Thank you for your support!